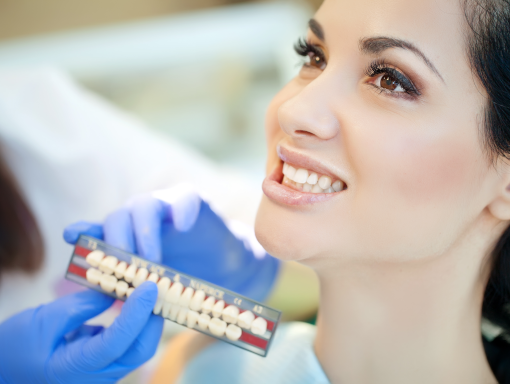 Crowns and Bridges
Your teeth are an important part of your life, and when one of your teeth is damaged, it can take a toll on your daily life. To help protect your teeth, your dentist may recommend the use of a dental Crowns and Bridges.
Dental Crowns
Dental crowns are a type of dental restoration that goes over your existing tooth to help strengthen and protect it. Dental crowns can be used on teeth that have cracked or chipped, or teeth that have a large dental filling and have the potential to be damaged.
Dental crowns can also be used to improve the appearance of your teeth by providing a uniform appearance to damaged or discolored teeth.  Your dentist will take impressions of your mouth to ensure that the dental crown fits properly in your mouth and will also provide you with care instructions to ensure that your dental crown lasts for many years.
Dental Bridges
A dental bridge is a dental restoration that provides a lifelike replacement for a missing tooth. Your dentist will custom design your dental bridge to fit your needs, filling in the gap for easier chewing and an improved bite.  Your dentist will first treat the teeth on either side of the missing tooth, preparing them like they are about to receive a dental crown.  The dental bridge will then be placed over these teeth, filling the gap caused by your missing tooth.
With proper care, dental bridges can last for many years after placement. Your dentist will walk through proper cleaning of a dental bridge, including cleaning between the bridge and gums.
If you are missing teeth and would like to see if dental crowns and bridges are the best option for you, contact our Calgary SW dental clinic where one of our friendly staff members will answer all your questions and help you book an appointment.
Book An Appointment
Book a visit to Glenmore Landing Dental Centre, simply fill out the form below, and we will contact you back regarding the intervention you require.
Looking For Crown and Bridges In Calgary SW?
At Glenmore Landing Dental Centre we offer dental filling services in Calgary SW
Contact us to know more
CONTACT US
Business Hours
Monday – Tuesday: 9:00 AM – 5:00 PM

Wednesday: 11:00 AM – 7:00 PM

Thursday – Friday: 9:00 AM – 5:00 PM

Saturday: 10:00 AM – 3:00 PM
Follow Us