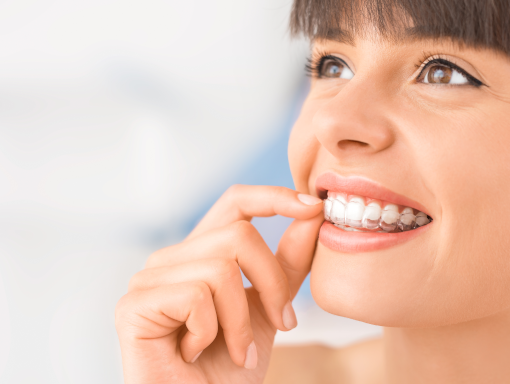 Invisalign
Invisalign ® Clear Aligners are the new way to straighten your smile without using the traditional wires and brackets. They work by using a series of clear aligner trays that are worn to slowly move your teeth into alignment. As your teeth move into alignment, your dentist will switch you to a new aligner that will shift your teeth even more until your smile is straight. Your dentist will take impressions of your teeth before starting to ensure that the aligners fit comfortably.
Because Invisalign® Clear Aligners are removable, you can easily take them out while you eat or brush your teeth, making the process of straightening your teeth much easier. If you want to straighten your teeth, Invisalign® may be the best option for you.
Schedule a consultation today by calling our Calgary SW dental clinic to learn more about how Invisalign® Clear Aligners can help you.
Book An Appointment
Book a visit to Glenmore Landing Dental Centre, simply fill out the form below, and we will contact you back regarding the intervention you require.
Looking For Invisalign In Calgary SW?
At Glenmore Landing Dental Centre we offer invisalign services in Calgary SW
Contact us to know more
CONTACT US
Business Hours
Monday – Tuesday: 9:00 AM – 5:00 PM

Wednesday: 11:00 AM – 7:00 PM

Thursday – Friday: 9:00 AM – 5:00 PM

Saturday: 10:00 AM – 3:00 PM
Follow Us